Some time ago, RailNetEurope and Forum Train Europe joined forces to start an ambitious project – the Redesign of the International Timetabling Process: 'TTR for Smart Capacity Management'. But what is TTR?
Simply put, TTR is the programme to simplify, unify, and solidify improvements to the European rail timetabling system to significantly increase the competitiveness of railways. A systematic redesign of timetabling processes is needed as they differ considerably across European countries, which makes international cooperation difficult. Cross-border traffic is as important as ever for the rail sector, but the current system is leading to unnecessary delays due to poorly coordinated construction works and timetable clashes. In addition, the capacity products currently provided by the Infrastructure Managers do not serve all market needs.
To remedy this unsatisfactory situation, both RailNetEurope (RNE) and Forum Train Europe (FTE) agreed that changes to these procedures are needed and launched the TTR project. They are being supported by the European Rail Freight Association (ERFA) and ALLRAIL.
Concept based on market needs
The TTR project has a clear focus on providing substantial value to all involved parties, and the TTR project team was therefore set up by inviting Railway Undertakings (RUs), Infrastructure Managers and Allocation Bodies (IMs/ABs) and supporting companies to nominate market specialists as well as experts from the fields of timetabling, construction works, IT and legal matters. The newly set up team then started conceptualising the redesign of the timetabling process by asking the market to spell out its needs.
Organisation and contact
TTR is organised as a programme, steered by RNE and FTE, and supported by the ERFA and ALLRAIL. The programme is governed by the TTR Steering Committee and managed by the TTR Core Team.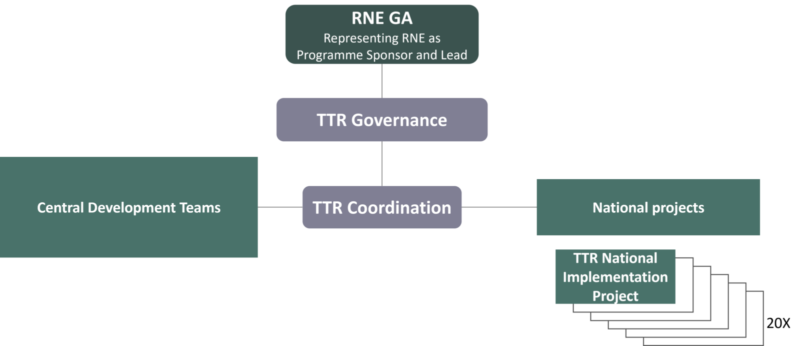 Contact
If you have any queries regarding the programme, please e-mail us at ttr@rne.eu.
Downloads
Extensive information on TTR is available in the TTR Documents & Media section.