The TAF/TAP TSI (Technical Specification for Interoperability relating to Telematics Applications for Freight/Passenger Services) aim to define the data exchange between individual Infrastructure Managers (IMs), and also between IMs and Railway Undertakings (RUs).
In addition to data exchange, the TAF TSI describes business processes involving IMs and RUs. For this reason, the TAF TSI deeply impacts existing international rail infrastructure business processes. The TAF, or at least the IT interfaces with other partners, must be implemented in a similar way by all TAF TSI partners, including the IMs. More information is available on the TAF TSI Joint Sector Group website.
The TAF TSI functions define data processing regarding the following variables:
When (at which point in time)
What (which kind of information and content) must be sent to
Whom (partner or partners) and
How (in which format) the data must be exchanged
A mandate to coordinate the IMs within the TAF/TAP TSI framework was given to RNE by its General Assembly in May 2008 and renewed in May 2012. Since that time, RNE has been providing strong support by coordinating and organising the implementation of the TAF & TAP.
To effectively implement the Regulation on telematics applications, efficient sector-driven coordination is required, specifically to harmonise and coordinate the work plans of the sector and work to agree on a common sector position towards the European Union Agency for Railways (ERA) and Directorate-General for Mobility and Transport (DG MOVE) whenever required.
The specific work plans concern TAF TSI (as a whole) (concerning Railway Undertakings (RUs), Infrastructure Managers (IMs) and Wagon Keepers (WKs)) and TAP TSI for the following basic parameters (concerning RUs, IMs and Station Managers (SMs)):
Handling of information provision in the station area
Train preparation
Train running info and forecast
Service disruption information
Handling of short-term timetable data for trains
Quality (RU/IM)
Reference files and databases (RU/IM)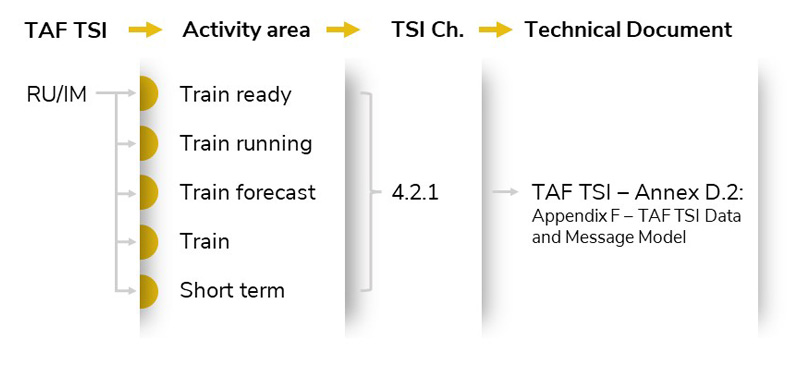 This scope is combined under the term 'RU/IM Telematics'. The governance structure described in detail in the 'Telematics Governance, Terms of Reference' document can be found on RU/IM telematics Joint Sector Group (JSG) website.
Change Control Management Process (including questions)
The Change Control Management (CCM) is the process in place to monitor the evolution of the documents used to implement the TAF and TAP regulations.
Two CCM processes exist:
the ERA CCM process in charge of maintaining and monitoring the technical documents listed in Appendix I of TAF TSI and the technical documents B.1 to B.30 listed in Annex III of TAP TSI; These documents can be found on the ERA website https://www.era.europa.eu/activities/technical-specifications-interoperability_en
the Sector CCM process in charge of maintaining and monitoring all changes related to the documents managed by the sector.
For both processes the Sector Management Office (SMO) is in charge of analysing the Change Requests (CRs) and preparing the position to be presented to the JSG for approval.