As the railway sector aspires to take on a larger share of the transport demand in the next decades, its success on the market can only be achieved by applying competitive planning and production processes. The development and common implementation of harmonised capacity management processes is what the programme TTR for Smart Capacity Management aims for. A key aspect of this new sector approach is the binding implementation and application of the TTR process across Europe to strengthen the sector overall and to make railway transport more competitive in the European transport market through streamlined capacity planning.
To successfully and timely implement TTR at European as well as national level, the programme requires the full support of all involved railway stakeholders. The implementation activities are done on two levels, which closely interrelate to each other:
Central level: provision of central IT and further enhancement of process details
National level: national TTR implementation projects were launched to ensure that national processes are implemented with national IT ready. TTR is being implemented gradually with several steps to ensure a smooth transition.
Furthermore, several Infrastructure Managers and Railway Undertakings are working on pilots and Minimum Viable Products (MVPs) to test and improve TTR components and to accelerate the implementation speed even further.
To align all implementation and improvement efforts, RNE has provided a dedicated project management and established a coordination team.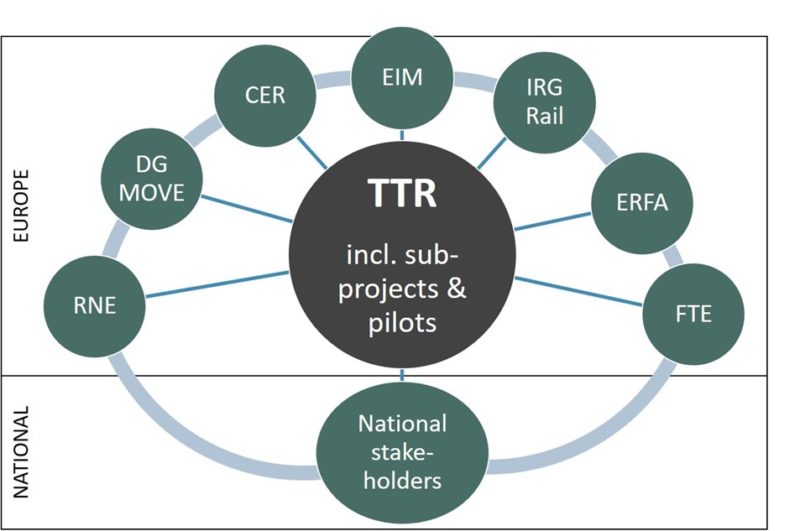 Contact If you have further questions, please do not hesitate to contact the leader of the TTR Implementation project, Mr Josef Zitzler (josef.zitzler@rne.eu) or the deputy project leader, Mr Sebastian Naundorf (sebastian.naundorf@forumtraineurope.eu).