RNE's mission is to facilitate international rail traffic across Europe and making railway more competitive in the areas of capacity and traffic management. To achieve that, RNE's Members adapt national processes until they match and form one internationally aligned way of working. In capacity management, a completely revised approach has been created with TTR (Timetable Redesign) for Smart Capacity Management, aiming for a better market orientation of capacity planning with diverse products, seamless planning and easy access to infrastructure capacity. Since such an innovative approach requires a well-sketched change management plan, the rollout is foreseen as stepwise implementation, gradually following the sequence of the TTR process timeline.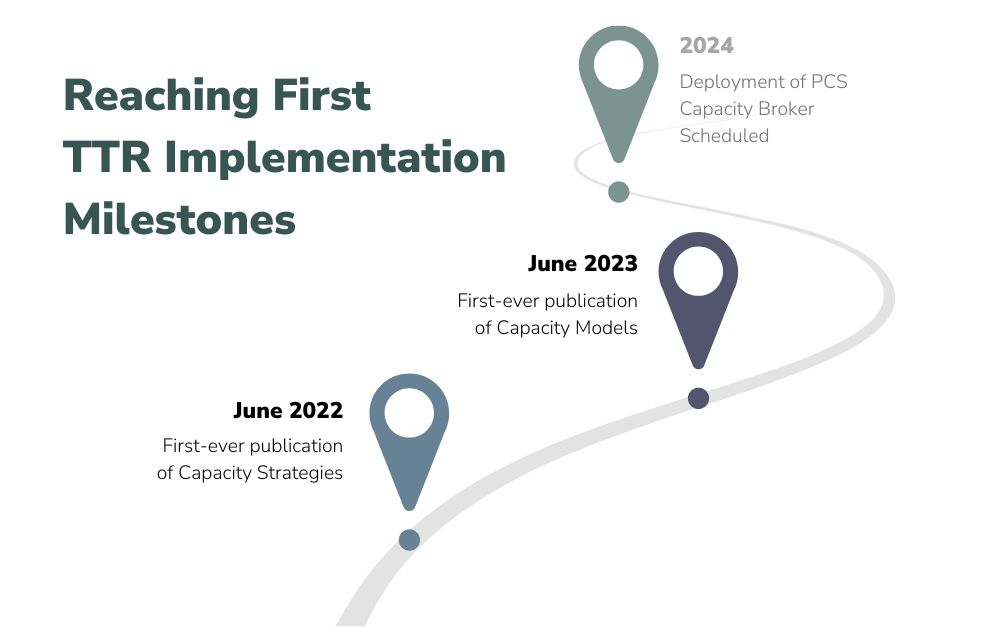 In 2023 very important progress was already made in the form of live processes: For the first time ever, Capacity Models were published in a new IT tool, the European Capacity Management Tool (ECMT), to gain new insights for future developments. Also, a second iteration of the Capacity Strategies was successfully provided, containing many improvements and extensions from the previous versions. In addition, several pilots are or were carried out to collect further input to newly developed processes, like the pilot on Capacity Needs Announcements (CNAs).
With these deliverables successfully provided, further processes needed to be defined to trigger the next steps of the TTR implementation. Therefore, the RNE General Assembly approved in its meeting in May several new and updated process handbooks, which describe in detail common RNE processes of the future:
A new handbook on Path Cancellation, describing the process for complete or partial cancellation of already allocated capacity
An update of the Path Alteration and the Path Modification handbooks to enhance the possibilities for Infrastructure Managers (IMs) and Applicants to apply changes to already allocated capacity
An improved handbook on Path Allocation for Annual Timetabling, merging, streamlining and improving previously split handbook on annual timetabling and late requests
Although the processes in these handbooks come into effect no earlier than timetable period 2025, the provision of these handbooks mark the beginning of the transition from currently applied to new processes. They will also materialise in the form of IT systems as central IT tools, particularly with the evolution of the current Path Coordination System into a Capacity Broker (PCS-CB). Developments have already started, and the deployment of the first PCS-CB version is planned for late 2024.
With these milestones reached and the next steps set in motion, RNE has again progressed in its mission for better international alignment by applying better harmonised processes in Europe.