To show appreciation for extraordinary achievements and contributions to RNE's work, an RNE Award has been conceptualised and was given to the first two awardees at the RNE General Assembly on 6 December. The selected candidates are Daniel Haltner (TVS) and Freddy Van der Cruyssen (Infrabel), both of whom have contributed immensely to RNE's work in many different capacities and areas.
Daniel Haltner received the RNE Certificate of Achievement for his extraordinary contributions to the Timetable Redesign (TTR) for Smart Capacity Management Programme since its inception in 2014, outstanding work in the areas of capacity management and timetabling in various leading roles, and significant part as a key contributor in the technical setup of the Rail Freight Corridors.
Freddy van der Cruyssen received the RNE Certificate of Achievement for his extraordinary contributions as co-founder of the European Capacity Management Tool (ECMT) and active member in the Digital Capacity Management and TTR Process working groups, outstanding work for the Path Coordination System (PCS), and vital role in the TTCom (Simple Communication Tool for Timetabling) application.
RNE President Paul Mazataud thanked the two awardees for their excellent work and invaluable contributions.
Daniel Haltner was present at the General Assembly to accept the award. He thanked RNE and said he was honoured to receive the award and grateful for the support of his work he experienced from RNE Joint Office Colleagues, RNE Members and, finally, Thomas Isenmann (TVS), who ensured that enough working time was always available for RNE-related activities. He concluded that due to his passion for international rail transport, he will continue to guide his work, even beyond his retirement.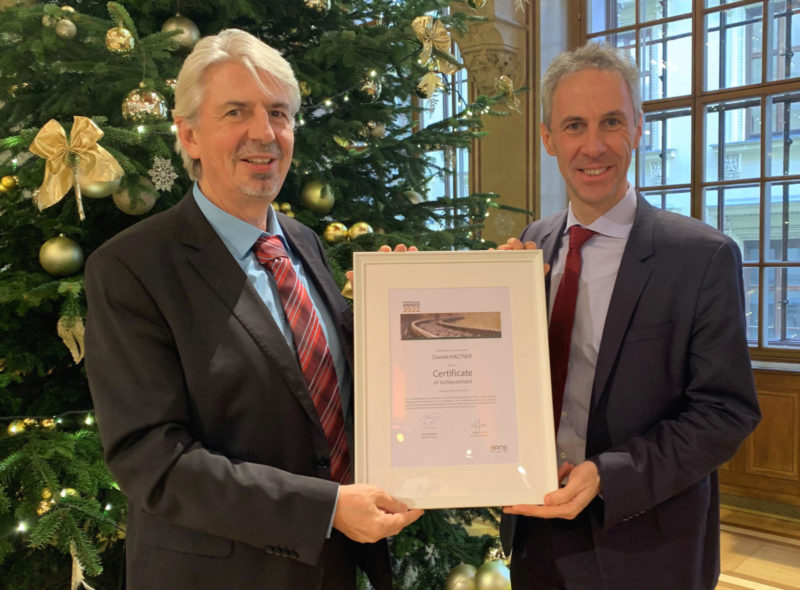 Freddy van der Cruyssen was on vacation at the time and could not be present to receive the award but asked Michel Geubelle (Infrabel), who accepted the award on behalf of Mr van der Cruyssen, to convey that he was very proud to have received the award and would continue working to make TTR a success for all stakeholders.
RNE's efforts are highly enhanced by many different individuals, as well as companies. It is our hope that the RNE Awards will serve to convey increased visibility and appreciation for exceptional work done and encourage involvement in RNE's activities, today and in the future.